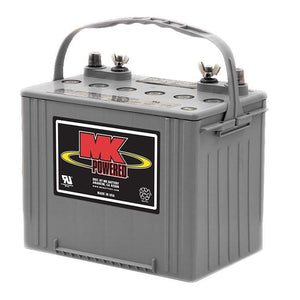 8G24T (75AH - Gel)
Size-for-size, MK's advanced sealed Gel and AGM batteries deliver more power and more consistent performance than other types and brands of batteries used for mobility, and MK premium gel sealed batteries are capable of up to 1000 (50% DOD*) cycles for a typical HME user. MK Batteries are completely sealed and thus safe in any position. Easily transportable by air – batteries are F.A.A., IATA and UPS approved
GEL batteries:
Superior cycle life, with lowest cost per month and lowest cost per cycle.
AGM batteries:
Lower initial cost, superior short duration/high discharge rates.
Both technologies:
Completely sealed, maintenance-free design – no need to add water.

Spill proof – safe installation in virtually any position, upside down not recommended.

Low self-discharge rates – extended storage life.
---
We Also Recommend
---